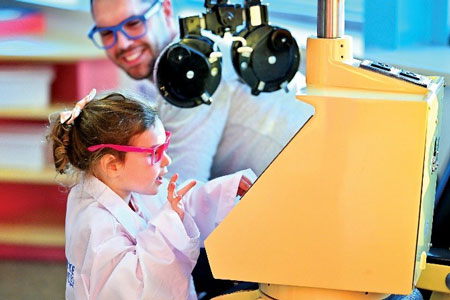 Purchase a year-long family membership to Buckeye Imagination Museum and receive exclusive Member benefits, discounts, and unlimited visits to the museum for a full year.
Click below to explore the different types of memberships we offer. Have a question? Call us! 419-522-2332.
Adult Add-Ons – $50 each (additional purchase)
Add a grandparent or babysitter to your family membership!
Add up to two additional named adults (e.g., babysitter) to your qualifying membership for $50.00 each. Additional named adults, "Add-Ons," must be at least 16 years of age. No more than two Add-Ons permitted per membership. Add-Ons can visit independently from the primary named adult members. Add-Ons will receive their own membership card. Add-ons are required to show their membership card and valid photo ID to gain admission to Buckeye Imagination Museum. Grandparent Memberships are not eligible for Add-Ons. Add-Ons can be purchased at the time of your purchase of a membership, or they can be purchased at a later date in store.
For a complete list of membership options, stop in at the museum and speak directly with one of our associates.
Definitions & Additional Explanations: