Sponsored by the Summertime Kids Grant of Richland County Foundation
Imagination Stations are a series of hands-on activity stations for kids ages 2-10. They're perfect for a variety of community events and are free to organizers and attendees. Hands-on Imagination Stations allow children to experience safe, creative, educational, and fun-filled activities, such as building with blocks and manipulating color tiles and sensory materials. These activities develop fine motor skills, imagination, social skills, increase attention spans, and more.
Designed to be durable and easy to transport, Imagination Stations are perfect for a variety of community events, such as weekend-long festivals or afternoon farmers' markets.
Not every family can afford to visit museums, but every family deserves the opportunity to learn, explore, and play. By taking our Imagination Stations into the community for free and meeting families where they are, we are expanding our impact and providing opportunities for educational play to more families.
For more information or to check availability, email our Program Coordinator, Suzanna.
Sponsored by Park National Bank

This free kindergarten field trip program is for all kindergarten students in Richland County, plus their teachers and adult chaperones. Schools must provide busing, but there is no cost of admission to our hands-on children's museum. Space for lunch is available upon request. Field trips are 2 hours, including time for instructions, lunch, and clean-up. This program runs from the start of the school year until January 31st each year. 
For more information or to check availability, email our Program Coordinator, Suzanna.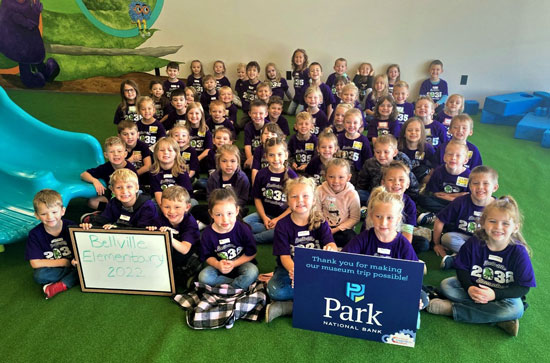 Sponsored by The Shelby Foundation and Marvin Memorial Library

The goal of our traveling exhibits is to promote literacy by bringing children's favorite stories to life and to encourage hands-on, imagination-based play, which is crucial to healthy child development. 
Buckeye Imagination Museum currently has 7 traveling exhibits (with more in the works!) based on common themes or subjects of interest in young children's lives. Each of these exhibits can be flexibly arranged to fit into a 50 sq. ft. area. Exhibits are geared toward children ages 4-8 years. Each exhibit includes three furniture pieces, toys/props, costumes, and a bookshelf filled with specially selected books to pair with the exhibit, thanks to Marvin Memorial Library.  
Buckeye Imagination Museum handles all transportation of the exhibits. Exhibits can be booked for a minimum of 4 weeks and maximum of 16 weeks, pending availability, the receipt of a $50 deposit or P.O. number, and a signed contract.
For more information or to check availability, email our Traveling Exhibit Coordinator, Suzanna.
Traveling Exhibits
Veterinarian Hospital
Train Tables
Pizza Parlor
Dentist
Dollhouses
Baby Doctor
Farm