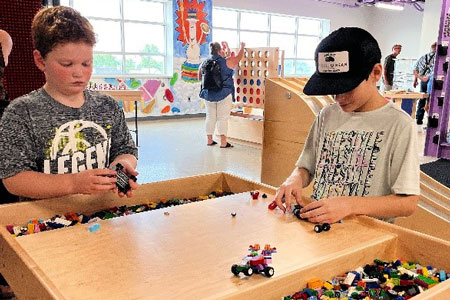 Buckeye Imagination Museum is a hands-on, play-based children's museum located halfway between Cleveland and Columbus in Mansfield, Ohio. With over 30 interactive exhibits that encourage open-ended, imagination-based play, Buckeye Imagination Museum is an ideal destination for family and school visits with children ages 2-10 years. Our museum features exhibits that support real-life experiences that many children are already familiar with, allowing them to further explore the world around them. Children can discover dinosaurs, fight fires, pilot planes, and so much more at Buckeye Imagination Museum!
Founded as "Little Buckeye Children's Museum" in April 2011, Buckeye Imagination Museum is a 501(c)(3) nonprofit and today is located in downtown Mansfield's Imagination District.
At Buckeye Imagination Museum, we understand that exploration and play are critical to child development, and we know that play benefits children physically, socially, emotionally, and intellectually. We strive to offer the children and families we serve a unique open-ended and self-directed play experience that promotes creativity, critical thinking, problem-solving skills, social-emotional skills, motor skills, parent-child interaction, and more.
Buckeye Imagination Museum encourages children to express themselves and to explore the world around them in a safe and developmentally stimulating environment. However, we also recognize that not all children have access to that kind of environment at home. Buckeye Imagination Museum is proud to provide children and families the opportunity to learn and discover through the power of play.