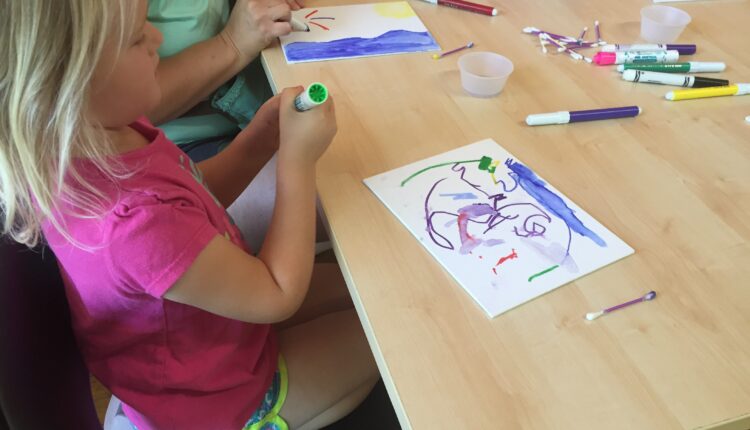 As a person who loves crafting, the isles of Hobby Lobby and Joann Fabrics feel like home. That is until you ring up everything you impulse grabbed only looking for ONE thing. While I love creating masterpieces from the fancy stickers and paper of the coveted craft stores, sometimes my wallet needs a break. The solution? Look for things around the house!
One piece of artwork that both looks nice and doesn't break the bank is sharpie art! Another great perk? This creates the watercolor effect without requiring the skills of a master painter. And for the parents of young children, this is a great craft for your little ones to do.
You'll need the following:
Sharpie Markers (These are great for the best color. However, if you're worried about staining with young children, washable magic marker works just fine!)

Rubbing Alcohol (75% isopropyl preferably. Parents, I know there's a bottle of this somewhere for cleaning scrapes and cuts.

Thick Paper or Canvas (Hobby Lobby has canvases on sale pretty often.)

Multiple Q-tips (Check your bathrooms for these, or your child's ear.)

Small Dixie Cup for Alcohol (The kind you try to get your kids to use to rinse after brushing their teeth. Probably has cars or a Barbie design on them.)
Here's how make it!
Take the Dixie cup and fill about half way with rubbing alcohol.

Next, place paper towels under your paper or canvas to protect your table.

After you select your markers, get creative! Make doodles, fireworks, anything. Completely up to you or child's imagination.

Now it's time to create the watercolor effect. Take your Q-tip and saturate with rubbing alcohol. Many Q-tips may be required.

Trace the lines/design to pull and spread the colors. Blend as little or as much as you want!

When done, let dry for a few minutes. Rubbing alcohol does not need very long to dry completely.

Once dry, display your masterpiece or make more!
Thank you for reading!
Natalie Tasseff, Museum Associate