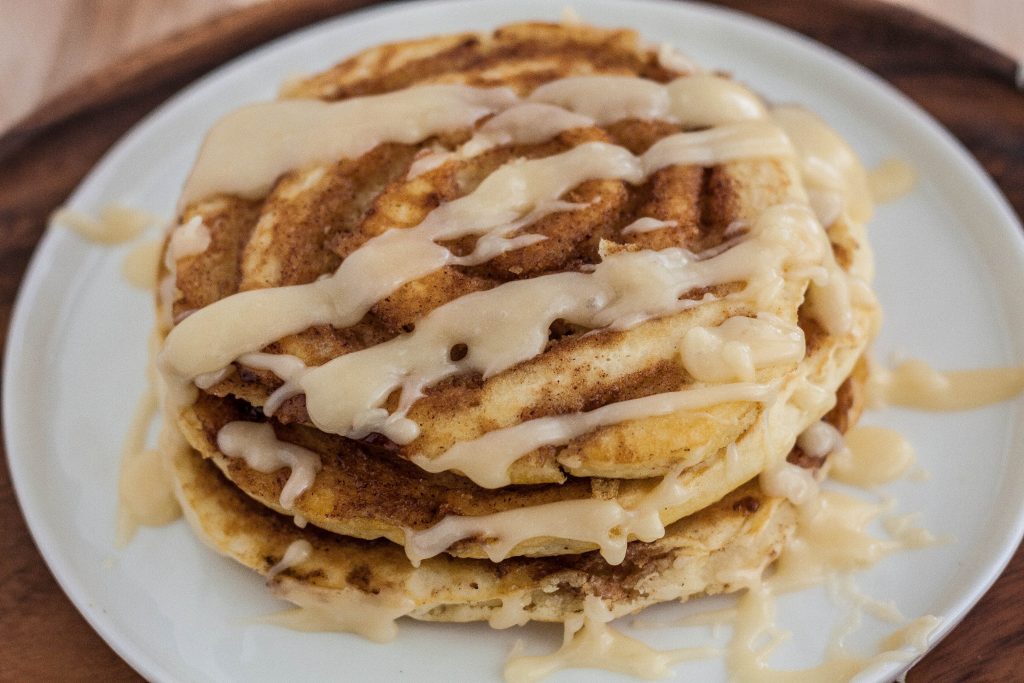 Cinnamon Roll Pancakes
What are two of the best breakfast foods? Pancakes and cinnamon rolls! Nothing beats fluffy pancakes with melted butter and syrup pouring off the sides to start your morning off right. I think most parents have shared the experience of walking by the Cinnabon store in the mall. It's hard to say no with your kids pulling your leg to obtain the rich icing and cinnamon swirled goodness. And don't lie to yourself. As much as your kids want one, you really do too. And why compromise between them when you can have both in one? Cinnamon roll pancakes are easy to make and more importantly, delicious. They will both satisfy your children and your inner child, as well. Let's get started!
What you will need:
For Pancakes:
Any boxed pancake mixed (If you want to get fancy and start from scratch, go for it.)
For Cinnamon Filling:
½ cup butter, melted
¾ cup packed brown sugar
1 tablespoon ground cinnamon
For Cream Cheese Glaze (Optional regular syrup works just fine):
4 tablespoons butter
2 ounces cream cheese
1 1/4 cups powdered sugar
1 teaspoon vanilla extract
How to make it:
Mix together cinnamon, brown sugar, and melted butter in a medium bowl. Put mixture in a large zip lock bag and let set for about 15 min. This will help the filling thicken.
While your filling is thickening, make your pancake batter following the instructions of your batter of choice.
Next, prepare the cream cheese glaze in a medium glass or microwave-safe bowl. Heat the butter and cream cheese until melted and whisk together until smooth. Then whisk in powdered sugar and vanilla, and set aside for later.
Now heat a large skillet over medium low heat and spray with nonstick cooking spray. Scoop about ½ cup of batter onto the skillet.
Snip a small hole in the corner your zip lock bag with your now thickened filling.
Now the fun part! Squeeze filling in a spiral over your pancake mix giving the appearance of a cinnamon roll! Flip pancake when bubbles appear in the surface.
Let the other side cook for 1 to 2 minutes or until lightly browned on the underside.
Next remove pancake from skillet and pour on your cream cheese glaze, syrup, more butter, or maybe even icing! It's ready to eat!
Thanks for reading!
Natalie Tasseff, Museum Associate