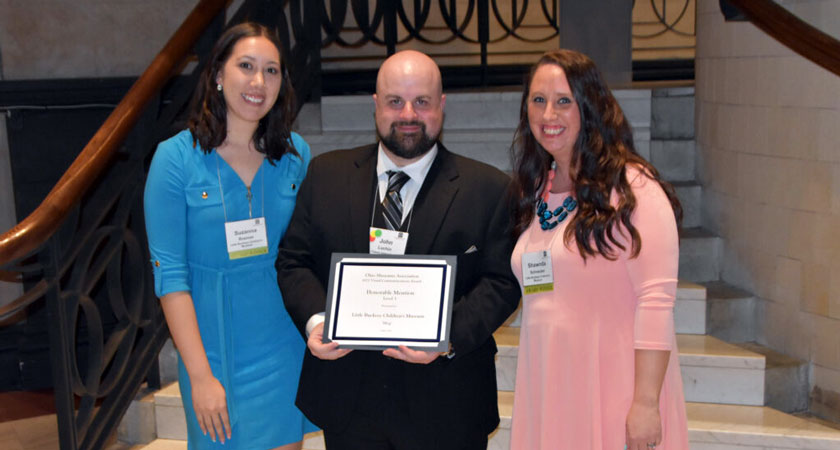 MANSFIELD, OH, April 3, 2022 – On Sunday, April 3rd at the Cincinnati Art Museum, Little Buckeye Children's Museum was awarded the 2021 Ohio Museums Association Award of Achievement for Best Education and Outreach (Under $500,000) for their "Traveling Exhibits" program.
The Ohio Museums Association (OMA) award program is an annual celebration of the outstanding achievement of Ohio museums in visual communications, individual and institutional achievement, and the tireless work museum professionals undertake to help advance Ohio's museum community both locally, and on a national level. Nominations for these awards are incredibly detailed. The in-depth process helps to illustrate how these institutions and individuals have gone "above and beyond" the normal call of duty to support their institution, serve their public and advance the cause of the museum community. Winners were recognized during the annual OMA Awards Ceremony.
The Little Buckeye Children's Museum Traveling Exhibit program was funded by the Shelby Foundation and the Malabar Farm Foundation with special thanks to the Marvin Memorial Library. The program was launched in an effort make interactive play more accessible by loaning exhibits to schools, libraries, and daycares for free. The exhibits are hands-on and imagination play-based and are ideal for children ages 4-8. They include specially curated books matching each exhibit's theme, can be flexibly arranged in any 50 sq. ft. area, and can be borrowed (for free) for 4-12 weeks. Little Buckeye's Traveling Exhibits are designed to encourage children to explore and play in a fun, safe, and developmentally enriching way. Play opportunities are open-ended and self-directed, allowing children to build self-confidence and independence, develop their imaginations, and learn critical problem-solving skills. The specially curated book displays that accompany the exhibits also promote literacy. Little Buckeye's first collection of Traveling Exhibits includes a Veterinary Hospital, Pizza Parlor, Train Tables, Dentist, Baby Doctor, and Dollhouses. Little Buckeye Children's Museum knows that not every child has access to museums in their home life, but believes every child deserves the opportunity to learn and play. One supporter of the program stated, "Each exhibit allows for open-ended free play, collaboration with others, and the development of life skills…. Children and adults alike are excited to see what we have and to play together."
Little Buckeye Children's Museum also took home a 2021 Honorable Mention in the Visual Communication category for their blog.
About Little Buckeye Children's Museum
The mission of Little Buckeye Children's Museum is to provide families and children with the opportunity to learn and discover through the power play. Little Buckeye Children's Museum is a hands-on children's museum dedicated to learning through play and is located in downtown Mansfield, Ohio. Little Buckeye Children's Museum is a 501(c)(3) nonprofit organization.