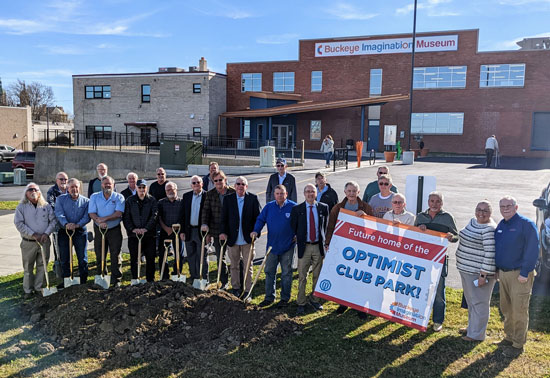 Mansfield Noon Optimist Club Breaks Ground on Park in Imagination District
Today was an historic day for the Mansfield Noon Optimist Club. Today's groundbreaking of the Optimist Club Park, which will be located on property owned by Buckeye Imagination Museum, is the club's tribute to the community as a "Friend of Youth" by providing a green space for the youth of Mansfield, Ohio.
One hundred years ago, on October 1, 1923, the Mansfield Noon Optimist Club was chartered. The club's goal was to be a "Friend of Youth." As the Mansfield Noon Optimist Club celebrates its 100th year anniversary its goal to spread optimism and hope for the youth in our community has not changed.
This project will benefit the community by creating a fun and engaging public park in the Imagination District – a major investment towards the betterment of the community for both children and adults.
This year, the Mansfield Optimist Club seeks to raise $1,000 for every year of the club's existence — a total of $100,000 — to further community development for youth by constructing this park. With your help, the Mansfield Optimist Club can provide this park and mark 100 years of service to the Mansfield community.
Many thanks are due to the donors and individuals without whom this project could not have happened: Members of the Club's Centennial Planning Committee, Kevin Zehe, David Siebold, Bill Rea, Dan Obrymba, Fred Boll, Taylor Bogner, Dan Herrold, Joe Murr, Doug Versaw, and Cameron Karger; Fred Boll, Executive Director of the Buckeye Imagination Museum; the Mansfield Noon Optimist Foundation; Mansfield Noon Optimist Club Members who have generously pledged donations to this project; community pledges and grants, which include TC Energy, Amvets Local #26, and Optimist International organization; and a special thanks to Brad Hostetler and his son for their generous contribution.
For questions regarding this project, please contact Kevin Zehe at: medohiosrv@gmail.com.
About the Mansfield Noon Optimist Club
In October of 1923, the Mansfield Optimist Club was created with a mission of "providing hope and positive vision and bringing out the best in youth, our communities, and ourselves." Over the years, the Optimist Club has contributed to the community through their support of many youth-based programs, including Adopt-A-Child, Coats for Kids, various student essay contests, college scholarship opportunities, Miss Ohio Pageants, and many more.